About Us
About Us
Welcome to Stems Florist! We are a family-owned and operated flower shop in business since 1994. Stems Florist has evolved into one of the most successful florists in Omaha, NE. Our bouquets and arrangements are truly unique, high-end, and even avant-garde. The designers at Stems Florist work with only the highest-quality flowers, plants, and tropicals. Birthday flowers, anniversary flowers, new baby flowers, get well flowers - we do it all. Our team designs flowers for weddings and corporate events; both big and small. We also create gorgeous sympathy and funeral flowers - and provide reliable flower delivery. Call The Omaha Florist, order online, or come visit us. It's our pleasure to serve you!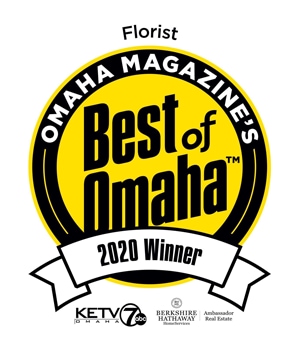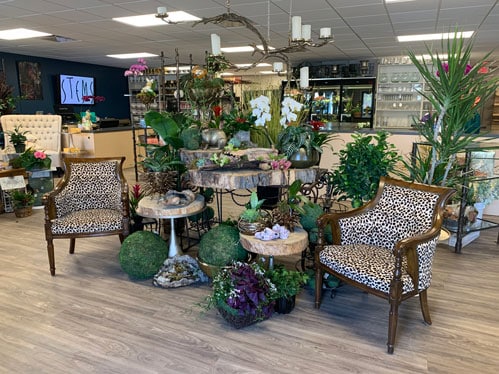 Stems Florist
12037 Blondo Street
Omaha, NE 68164
---
Store Hours:*
*Our shop is open:
Mon-Fri: 8:00 am - 6:00 pm
Sat: 8:00 am - 4:00 pm
Sun: 9:00am - 2:00pm


It's always helpful to place your orders in advance of major holidays to ensure a timely delivery.

To help assure on-time delivery during the busy holiday season, place your order at least 1 day prior to the following major holidays:
Thanksgiving Day, Christmas Day, New Year's Day, Valentine's Day, Easter, Administrative Professionals Week, Mother's Day, Memorial Day, Father's Day, Independence Day and Labor Day.

Our shop will always be closed on the following holidays: New Year's Day, Easter, Memorial Day, 4th of July, Labor Day, Thanksgiving Day & Christmas Day.
Payment Options
We accept the following payment methods:
Visa
MasterCard
Discover Network
American Express
House Account
Will Call In
Pay In-Store on Pick Up
Specialty Services
Large inventory of fresh flowers for any occasion
Weddings / Wedding Flowers
Sympathy and Funeral flowers
Birthday flowers, Get well flowers, Anniversary flowers
Tropicals
Plants
European/dish gardens
Modern and traditional flower arrangements
High-style floral arrangements
Silk flower arrangements
Extensive gift line
Gourmet fruit baskets
Gift baskets
Greeting cards
Candles
Contact Information
If you have any questions or need more information, please call us directly at (402) 399-8003. After hours, you can place orders with our answering service. You may also e-mail us at stems@mccarthygroupflorists.com
Delivery Areas
We provide same-day delivery to the following cities:
Council Bluffs, Carter Lake, Bellevue, Bennington, Boys Town, Elkhorn, Gretna, Papillion, Waterloo, Omaha, Offutt AFB, Ralston, Millard, LaVista
We also deliver to the following facilities
A Fountain View Senior Living
Alegent Health
Alegent Health Express Care
Alegent Health Immanuel Hosp
Alegent Health Lakeside
Alegent Health Lakeside Wellness
Ambassador Omaha
Arboretum On Farnam Dr
Bergan Mercy Medical Ctr
Beverly Healthcare Sorensen
Bloomfield Forum
Boyd E Braman Mortuary
Boys Town Natl Research Hosp
Brewer-Korisko Mortuary
Brighton Gardens By Marriott
Brookstone Village Inc
Capitol Hill Apartments
Chapel Of Memories
Child Care & Development Ctr
Children's Hospital
Comfortcare Homes Of Nebraska
Country Club Village Apts
Creighton University Med Ctr
Crisis Information & Referral
Crosby-Kunold-Burket-Swanson
Crown Pointe
Crown Villas
Douglas County Hospital
Dworak Mortuary
Echo Hills Healthcare Ctr
Edgewood Vista
Florence Home Senior Living
Good Samaritan Ctr
Good Shepherd Funeral Home
Hallmark Care Ctr
Heafey Heafey Hoffmann Dworak
Hickory Villa
Immanuel Courtyard
Immanuel Lakeside Terrace
Immanuel Medical Ctr
Immanuel Village
Immanuel-Fontenelle Home
Infinia Of Omaha
Jewish Funeral Home Inc
John A Gentleman Crematory
John E Johnston & Son Funeral
Kremer Funeral Home
Larkin Funeral Home
Life Care Ctr Of Omaha
Lindenwood Assisted Living
Lutheran Home
Maple-Crest Care Ctr
Masonic Manor
Methodist Health System
Methodist Hospital
Methodist Richard Young
Mid America Care Ctr Inc
Midamerica First Call Svc
Millard Manor
Montclalr Nursing & Rehab Ctr
Myers Funeral Home
Nebraska Health Systems
Nebraska Skilled Nursing
New Cassel Retirement Ctr
Pacific Springs Village
Pargon Rehabilitation Ctr
Parsons House On Eagle Run
Poison Center At Children's
Rainbow House
Remington Heights Retirement
Renaissance At The Arboretum
Richard Young Ctr
Roeder Mortuaries
Rose Blumkin Jewish Home
Royale Oaks Assisted Living
Silvercrest Assisted Living
Silvercrest Fountain View
Skyline Health Ctr
Skyline Retirement Community
South View Heights
St Joseph Hospital
St Joseph Tower Assisted Lvng
St Joseph Villa Nursing
Staskiewicz Mortuary
Sunridge Village
Thomas Belford
Thomas Funeral Home
Univ of Nebraska Med Center
University Of Nebraska Med Ctr
Us Veterans Hospital
Vha Of The Midlands
Walnut Grove
Westlawn-HiLLCrest Cemetary
Westlawn-HiLLCrest Funeral
Westminster Court
100% Guarantee & Refunds
We offer a 100% satisfaction guarantee on all purchases. Due to the perishable nature of flowers, it is our policy not to issue a refund on any purchases made. However, we are happy to ensure customer satisfaction by offering replacements for those orders that do not meet our customer's expectations. Alternatively, we might offer free upgrades on future orders or a store credit. Please call us to request help with an order if you are dissatisfied. Some restrictions may apply.
Delivery Policy
We will always try to accommodate a time sensitive order. Same day deliveries are generally available if placed before noon, but may not be available around major holidays. Please call us if you have any questions about the timing of your delivery. If your delivery requires a specific time we will be happy to offer you our express delivery service for an additional fee, if available. Sunday delivery is available when the store is open. If Sunday delivery is not available, your order will be delivered the next day. There is an additional delivery/service fee on most delivery orders. No matter what your budget is, we guarantee that you'll receive a beautiful arrangement that you'll be happy with.
Deliveries may be requested to arrive in the morning by 12 noon or by 5pm, if the arrangement is being delivered to a business. Special requests will be accommodated to the best of our ability, however, there may be additional fees or restrictions for deliveries needed within two hours of placing an order.
To ensure prompt delivery, recipients may be called to schedule a delivery. If the recipient is unavailable at home, the delivery may be left safely at a door or with a neighbor. Redeliveries are sometimes necessary if the recipient is unavailable, the delivery driver believes the flowers or gift would be damaged or lost by leaving them, or if there are no neighbors available. If the recipient is located at work, we may be required to leave the flowers at a reception area or similar space if we are not allowed direct access to the recipient's location. We will make every effort to hand deliver the flowers directly to the recipient.
We may attempt to call you or the recipient if we have delivery questions or problems. If you elect to receive an email, you should get a message shortly after the flowers have been delivered. Please note that there can be up to an 8 hour delay on email delivery notifications.
We will do our best to fulfill delivery date and time requests, but cannot always guarantee delivery times and dates, including express delivery options.
*Please note, during major floral holidays such as Valentine's Day and Mother's Day, we are unable to guarantee any timed delivery requests but will try our very best to accommodate.
OUT-OF-TOWN ORDERS
We can send flowers through our network of expert florists to most towns in the United States, Canada, and the rest of the world! For orders outside of our local delivery area, one of our florist partners may design and deliver your flowers. Please note that due to local availability, the florist who delivers your order may have to make substitutions to the flowers, vase, or gifts, while doing their best to maintain the overall look and feel of the arrangement you choose. We are unable to control what other florists send and cannot guarantee any specific delivery times or dates for out-of-town orders but will do our best to accommodate any requests. There may be additional fees associated with out-of-town orders. Rarely, we may not be able to find a florist to make and deliver your out-of-town order. If this happens, we will provide alternatives or cancel your order.
Substitution Policy
Due to the availability of certain flowers, substitutions may occasionally be necessary to create your bouquet. Great care is taken to maintain the style, theme, and color scheme of the arrangement, using flowers of equal or greater value. Additionally, the substitution of certain vases or gifts may be necessary due to increased demand, especially during major holidays. In single-flower arrangements, such as an all rose bouquet, or orchids, we will make every attempt to match the flower type, but may substitute with another color.
Privacy Policy
This privacy statement has been created in order to demonstrate our firm commitment to protecting customer privacy.

Information We Collect

If you open an account on our site or make a purchase, we need your contact information including your name, e-mail address and mailing address to complete your transaction.

When you visit our website, we also collect some basic information that does not identify individual users. We use this information to determine our users demographics and interests, so that we can better understand and serve our users.

"Cookies"

Cookies are small files which store certain information about your activity on the website and are stored on your computers hard drive. Our cookies do not contain any personally identifying information. We use cookies to let us know that you are a prior customer, so that you dont have to reenter information you gave us on your prior visits. Most web browsers automatically accept cookies, but most allow you to instruct your browser to prevent the use of cookies. However, if you disable cookies, you will not be able to use certain features of this website.

Our Use and Disclosure of Your Information

When opening an account or making a purchase, you have an opportunity to opt-in or opt-out from receiving emails from us. If you opt-in to receive information from us, we may use your purchase history, contact information and other registration information to provide you with more relevant information and email content. We may send emails to our users regarding changes in our services or other information we believe will be of interest to our users. If you prefer not to receive these emails, you can send us an email with the subject line no emails or reply to our email with the subject line no emails.

If you send us personal correspondence, such as emails or letters, or if other users or third parties send us correspondence about your activities on our site, we may collect such information. We may use that information and other information that we obtain from your use of our site to resolve disputes, troubleshoot problems and enforce our agreement for Terms of Use.

We may share aggregate statistics about our sales, traffic patterns and related site information with other businesses, but these statistics will include no personally identifying information.

We may share your information with Teleflora and other reputable vendors for the purpose of sending out special offers via email and/ or in connection with the services provided by our site such as the delivery of flowers. Your information will not be shared for any other purpose and will be kept secured.

We cannot ensure that all of your private communications and other personally identifiable information will never be disclosed in ways not otherwise described in this Privacy Statement. For example, we may be required to disclose information to the government or third parties under certain circumstances, or third parties may unlawfully intercept or access transmissions or private communications. We can (and you authorize us to) disclose any information about you to law enforcement or other government officials as we, in our sole discretion, believe necessary or appropriate in connection with an investigation of fraud, intellectual property infringements, or other activity that may be illegal or may expose us to legal liability.

Security

This site has security measures in place to protect the loss, misuse and alteration of the information under our control.

All user credit card information is securely communicated using secure socket layer (SSL) software, which is the industry standard and among the best software available for secure commerce transactions.

All user information stored on our server is stored in an encrypted format. Notwithstanding these efforts, we caution you that perfect security does not exist on the Internet.

Linked Sites

If this site contains any links to other websites, we are not responsible for the privacy practices or the content of such websites.

Changes to Privacy Statement; Consent

We may update this Privacy Statement from time to time. You should check this page periodically for changes. By using our site, you consent to the collection and use of your information by us as described in this Privacy Statement.

Questions and Comments

We welcome your questions and comments about this Privacy Statement.